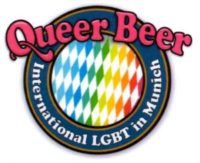 QB Stammtisch Munich (Queer Beer Munich) is a monthly evening of food, drinks, and conversation for Munich's international queer community.
The original idea for a QB Stammtisch came from the experience of several gay expats. Munich is a wonderful city but it can sometimes be hard to crack in to the local scene, particularly if your German isn't fluent. QB Stammtisch was formed to foster a community of global LGBTQIA+ people living in Munich, to serve as a friendly group for new people in Munich to tap into.
Although the group started as an English LGBT Stammtisch, there are now attendees from every continent except Antarctica!
Whether you're new in Munich and feeling a little lost, have been here a while and simply looking to keep up with friends, or just want to practice your English with other like-minded individuals, come have a drink and talk with us! People of all ages, genders, nationalities, and sexualities are welcome!
The evening officially starts at 8PM, but things generally don't get going until around 9PM. However, we recommend that newcomers try to get there earlier rather than later. That way, we can introduce you to people as they arrive, generally allowing you to get more out of the evening.
We hope to see you soon!
Join our Facebook Group for more information!
Impressum: Sub - Schwules Kommunikations- und Kulturzentrum München e.V., http://subonline.org